Ok… I know… they're all supposed to be looking at me right?! Well in this case, the man who was signing "Sweet Caroline" at the top of his lungs into my microphone had their (nearly) undivided attention! I really should have figured out who he was, anyone have any idea? He was an asset to the party anyways, GREAT WORK sir!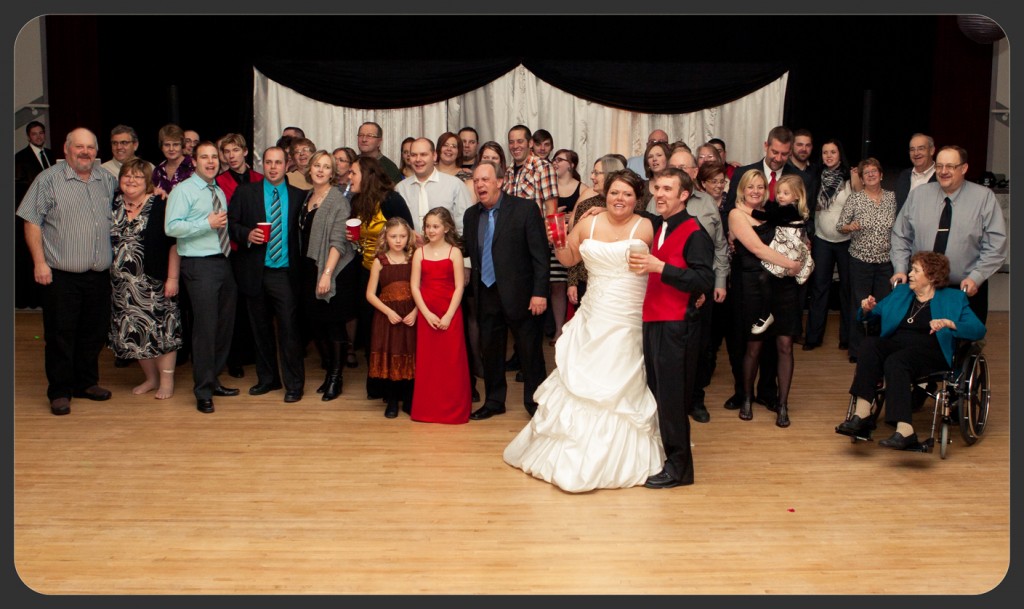 Wadena, Saskatchewan is where Steven & I travelled this weekend in order to help Chad & Kyla bring their perfect winter wedding reception to life. According to a few comments I received from her on Monday, "You made our day very special, entertaining and memorable… We can not thank you enough!!" the night went off just as Kyla wanted. Yay! Another happy mission accomplished!
After sharing a lot of laughs introducing their wedding party, including two really special young girls, we got down to sharing a little about Chad & Kyla. How they met, a memorable first date and finally the most beautiful of proposals, somewhat prompted by an interesting comment from Summer during a game of Monopoly. Then, the moment everyone had been waiting for… Mr. & Mrs…. you know how that part goes! 
Trivia is popular for many people. But when you attach a special reason to the trivia that people might not expect, it makes it a little more fun and gives it more purpose. In this case, to send tables to the buffet for dinner, we used trivia about the board game Monopoly. This was because of how interestingly Monopoly fit into the story of Chad's proposal to Kyla. Everyone had enough common knowledge about the game that I'm happy to report, nobody went hungry!
Later that evening, as a surprise during the speeches, Chad's two daughters (junior bridesmaids Summer & Haiylee) shared some really nice words about Chad & Kyla. It was funny, very moving and wonderful. Following this, we performed a ceremony not often witnessed at a wedding reception. The sand ceremony. As I shared what was being represented in this moment, black sand from Chad, white sand from Kyla and red sand from the girls mixed and blended together representing the new union that took place that day between the four of them. It was an honour to be part of such a beautiful moment.

Another event that deserves alluding to, was a time around 9:45 when their cake cutting took place. One guest said, "Best wedding cake cutting I've ever seen!" Let's just say it involved the song, "Eye of the Tiger" and an unexpected appearance of Chad's snowmobiling helmet and a pair of winter goggles. Each of their guests was made to feel involved in a really fun way. I truly hope that you'll all remember this moment of fun and excitement! Dancing then continued long into the night…
Special thanks to Carol of Carol's Photography and Andrea from Yorkton's Chalet Restaurant & Lounge for being really great to work with. I truly hope everyone enjoyed and had a great time. For myself and my assistant that evening (Steven of Seven 80 Sound Systems in Winnipeg), it was another great way to spend a weekend. Couples in love as Chad & Kyla are, make this an extremely enjoyable way to live my life. Thanks you two and thank you everyone.
Dave Ternier :: Master of Ceremonies :: Disc Jockey