2013 is officially here… and I'm going to start it off right, by not letting go of 2012! 
Why you ask? Well there were some great weddings from October and one in November that I didn't find the time to write recaps about. And because I've received a lot of great feedback about the stories, moments and ideas that I shared here in 2012, I'd like to continue to offer inspiration to future wedding couples and fellow DJs by continuing the trend. Since Sabine of Sterling Imageswas kind enough to share this brilliant photo with me, I thought I'd better get on it!
As guests arrived at Landon & Kaitlyn's October 20th wedding reception, random images of the two of them were slowly transitioning from one to the next on a large video screen inside the hall. To incorporate the love that Landon has for Harley Davidson motorcycles, guests made their way to their tables and found that each had been named after a different Harley model. I had no idea there were so many different bike names under the Harley Davidson brand!
Looking back, it's hard to pick a favourite moment of the night. Was it the tribute dance they shared together with their parents, Landon with his mother & Kaitlyn with her father? Was it the moment when "For They are Jolly Good Fellows" found them surrounded by a circle of love made up of family & friends? No, wait, it HAD to be when a long lost video (which Landon had only heard rumours about existing) was shown, displaying him singing his heart out to Elvis Presley MANY years earlier at the Minot State Fair. Yes, his friends had to be really sneaky (and bribe someone in the process) to acquire this video way back then (around 10 years ago if I remember right!). They wanted it specifically for the purpose of his wedding, whenever it would eventually happen. The tears of laughter streaming down nearly every face there, including Landon's, was priceless! Great work guys!
Regarding the photo showing here though… well you see, Landon is an arm wrestler and he's got his own official arm wrestling table because of that. We decided through planning ahead, that this would suit them perfectly, if it was a part of their wedding.
To start the release of tables to the buffet line, we called upon each of their mothers to show everyone how this was done. After the demo, different tables sent up representatives to take each other on, wrestling their way to the buffet line ahead of the other. It went over really well, with lots commenting on the fun they had arm wrestling each other.
While there were still a few tables to go, someone waved me over. "I want to wrestle Kaitlyn!" she told me. This is a GREAT idea I though! Following the last of the guests heading up to the buffet line I mentioned that before I leave everyone to enjoy their meal, "someone" has asked to challenge Kaitlyn to an arm wrestling match.
I invited Kaitlyn, who looked slightly nervous, to come on over to the table before asking her competitor to stand. When Grandma stood up, everyone cheered with excitement! Many laughs were had as they wrestled their way to this picture perfect pose.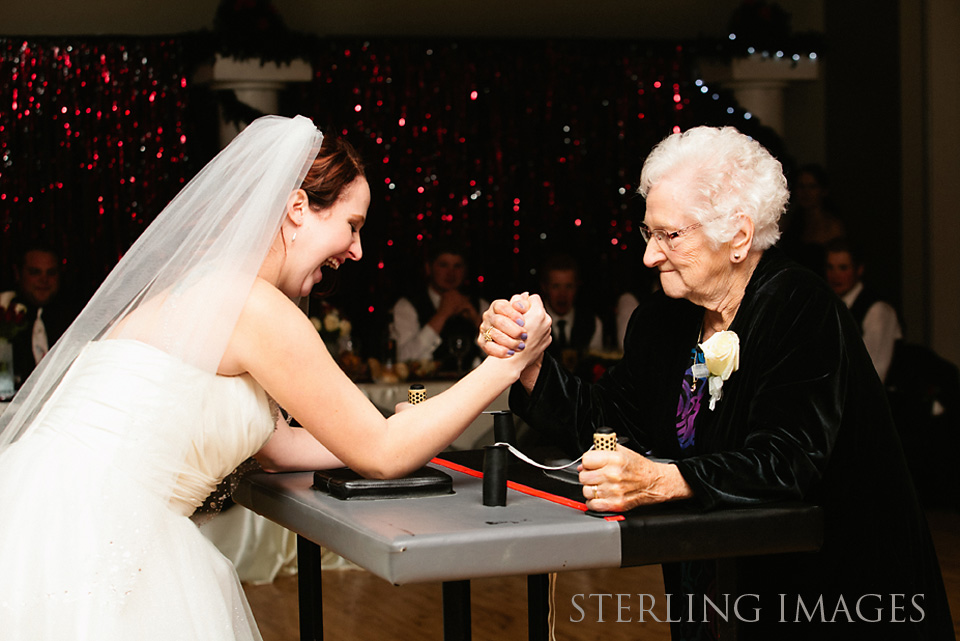 The enjoyment that Kaitlyn is obviously feeling here, contrasted with the super serious look of her Grandmother puts a massive smile on my face every time I look at it! It helped set the tone for an unforgettable night…
Thanks for making me a part of your lives and enjoy the new house you two. All the best with the new excitement that you've also got on the way!
Thanks also to the beautiful Sabine Chorley of Sterling Images Photography for this outstanding image.
Dave Ternier :: Master of Ceremonies :: Disc Jockey