The trip home is nearly complete. What an amazing time it's been. Easily another entry into the "I love my job" category that seems to have been a running theme over the past few months.
Courtney & Taigan got married. They danced. We shared great food. Tributes and welcomes to the two of them were shared. Then everyone danced. And oh did they dance… but before I share with you one of the most memorable moments from that part of the night…
Their wedding was so memorable for a variety of reasons. One of the favourites that stood out for me was when an audio tribute that three of Taigan's friends who couldn't attend was presented. They all shared some great memories and thoughts on their dear friend who was getting married. Another was when the voice of a Grandmother who couldn't attend was heard over the start of Anne Murray's "Could I Have This Dance". The congratulations she passed on to her grandson meant the world to him and many others there. Including everyone in this celebration, no matter where they would be that day, was one of the goals from the start.
This all happened after the staff of Hotel Las Brisas Ixtapa put on an incredible meal for everyone. They certainly know how to host! If anyone is looking for a new travel destination in Mexico where service is the most important aspect to your stay, you won't be disappointed by what you'll receive from Las Brisas here in Ixtapa. As Courtney's parents mentioned to me, a lot of the staff have remained here for well over the 13 years that they've been coming here! That in itself speaks volumes.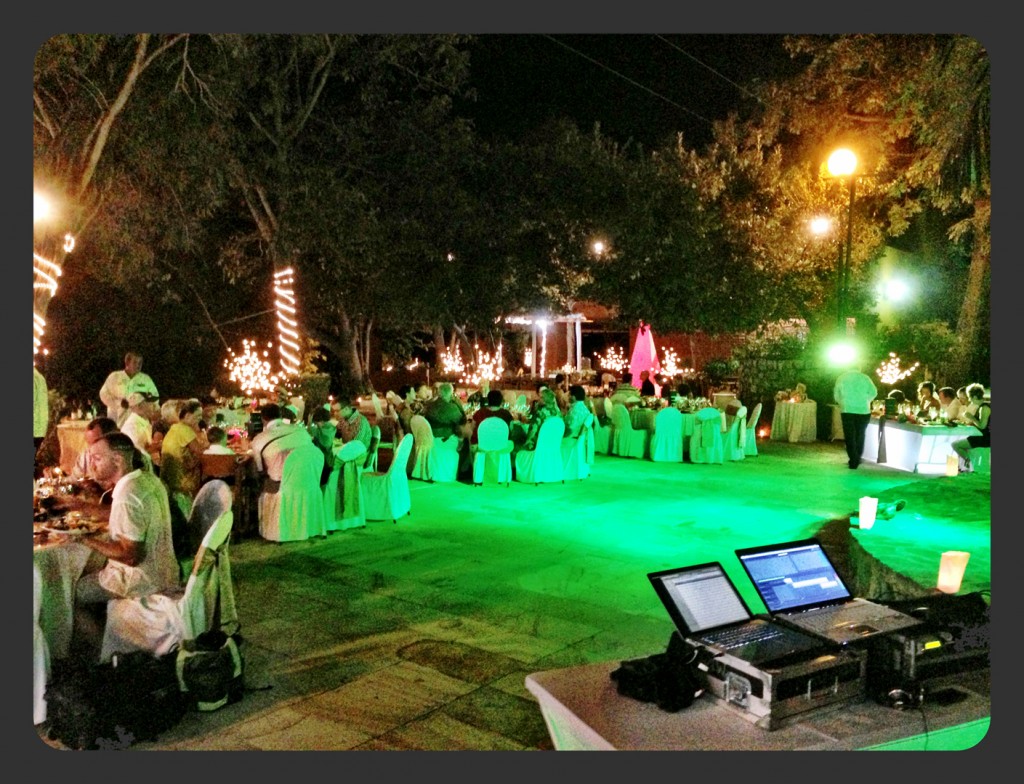 The reception took place in the Solarium as pictured here. The dance took place in front of the stage area you see… although it ended up being part of the dance floor too! Late in the evening, under the shadow of palm trees and the jungle life that surrounded us was when we got all of the staff involved too though! Immediately following two songs themed to where we were, it was time for a conga line! I put Courtney & Taigan in charge of leading it around the solarium. Nearly everyone was up, including the staff, cheering and singing away when Courtney got the bright idea that this line should now go through the pool. Thankfully it was a shallow pool here… but go through the pool it did! Laughter ensued as many couldn't resist this great idea! This was easily one of the funnier moments Courtney & I reminisced about the next day!
The evening continued on with lots and lots of dancing, including Grandma who stayed right till the end. She was a trooper! I can't wait to see the photo's that Chris of Chris Graham Photo captured. I happen to know there is a great one of Courtney landing flat on his back in the pool. Oh the stories those pictures are going to tell!
On behalf of all the friends and family that attended, our thanks to Taigan, Courtney and their parents for inviting us all to such a fantastic wedding. The new friendships that were created, the laughter that was shared and the sunshine that was enjoyed were sincerely appreciated. Thank you for making all of this happen, your generosity does not go unnoticed. Here's to many years of marriage and all the best to the both of you. Enjoy the rest of your holiday in Ixtapa! We'll catch up when you get back…
Dave Ternier :: Master of Ceremonies :: Disc Jockey