One week ago today, Jon & Ashley poured their individual lives together into one — never to be separated again. They symbolized this by mixing together a cocktail as part of their wedding ceremony. A new "vino" was created, the two parts never to be removed from each other again.
Their day continued on in the flawless fashion you would expect Ashley's wedding to follow. She and Jon entrusted Party Professionals to make the place look spectacular, Lisa Kryschuk Photography to capture the day in photos and Keith of Tri-Colour Freelance Videography to record all of the memories through video. Sara from the Victoria Inn Brandon was incredibly accommodating as well through all of the planning sessions that took place at the Vic. Together with their great staff, we had a great team!
Jon & Ashley's reception was packed full of great moments. Some outstanding surprises showed up during the Grand Entrance, Toast to the Bride and the presentation of a dowry gift to Jon in the form of an original, very unique, painting. Please don't ask me to explain that one…
Two stand out moments for me include their wedding party dance and their cake cutting. Yes, the cake cutting — or as in this case, the giant cupcake!
Ashley knew from the start she wanted her night to be a party unlike any other. So what better way to start that then with an energy filled wedding party dance designed to involve everyone of their guests?!! When "Forever" by Chris Brown started up, the men and ladies of the wedding party stood in two lines opposite each other and took turns, starting with Ashley & Jon, dancing their way down the line as couples in "Soul Train" style. When they had all finished showing each other up, we invited everyone else up to show off their moves and take part in the fun! The hand clapping and cheering started the party with energy that carried on through to "Sexy & I Know It" and "Good Feeling". I don't recall her exact words, but Lisa who was photographing the day said something like, "I wish every party started off with this type of energy — awesome!"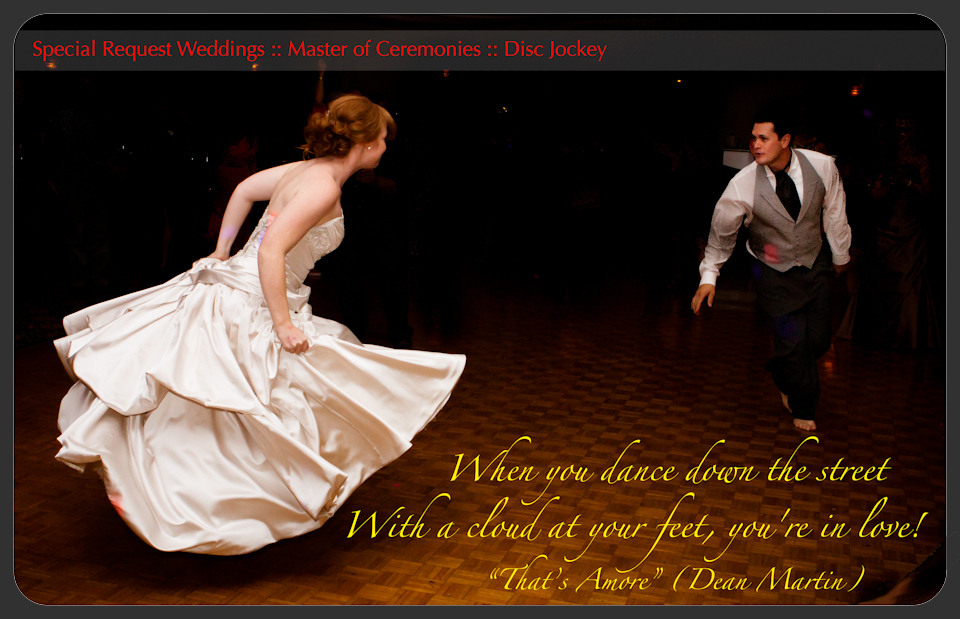 Why their "cupcake cutting" stands out for me is because we were able to involve all of their guests and made it fun and full of laughter. Curious? Well allow me to simply share that it was up to the guests if it was going to be a "classy and clean" cake cutting or a "fun, wild and slightly messy" cake cutting! After they made their choice Dean Martin's "That's Amore" was cued up to play at "When the moon hits your eye like a big pizza pie… That's amore!" Picture Ashley & Jon circling each other (similar to how they're eyeing each other up in this photo while dancing on the dance floor) with a little piece of cake in their hand, trying to attack each other as if they were in a boxing ring! Laughter, cheering and another unforgettable memory was created. The cake cutting (or cupcake cutting) can be a nice quite moment for you and your spouse, or an activity designed to engage all of your family and friends. The choice is yours.
Tonight is my third Saturday off since January, so I'm heading home to spend it with family before meeting up with Kyla & Chad to start the planning for their January 2013 wedding in Wadena, Saskatchewan tomorrow. Have a great weekend everyone!
~ Dave Ternier :: Master of Ceremonies :: Disc Jockey