This is a day late… sorry, I was working on other things…
I'm going to start this weeks little story with the end of this past Saturday night. The evening came to a great close with Dustin, Krishawna & their family and friends singing their hearts out to Don McLean's "American Pie". I LOVE ending off the night with a song that everyone knows and that everyone can feel included in.
If you're a DJ reading this, keep in mind that not everyone can relate to the latest hits that we sometimes end off with. Look at who is there in the room and if finishing songs have not already been decided on through earlier planning meetings, set up the final few tracks of the night to include EVERYONE there. I love to "book-end" the reception with a great start and an equally fantastic finish.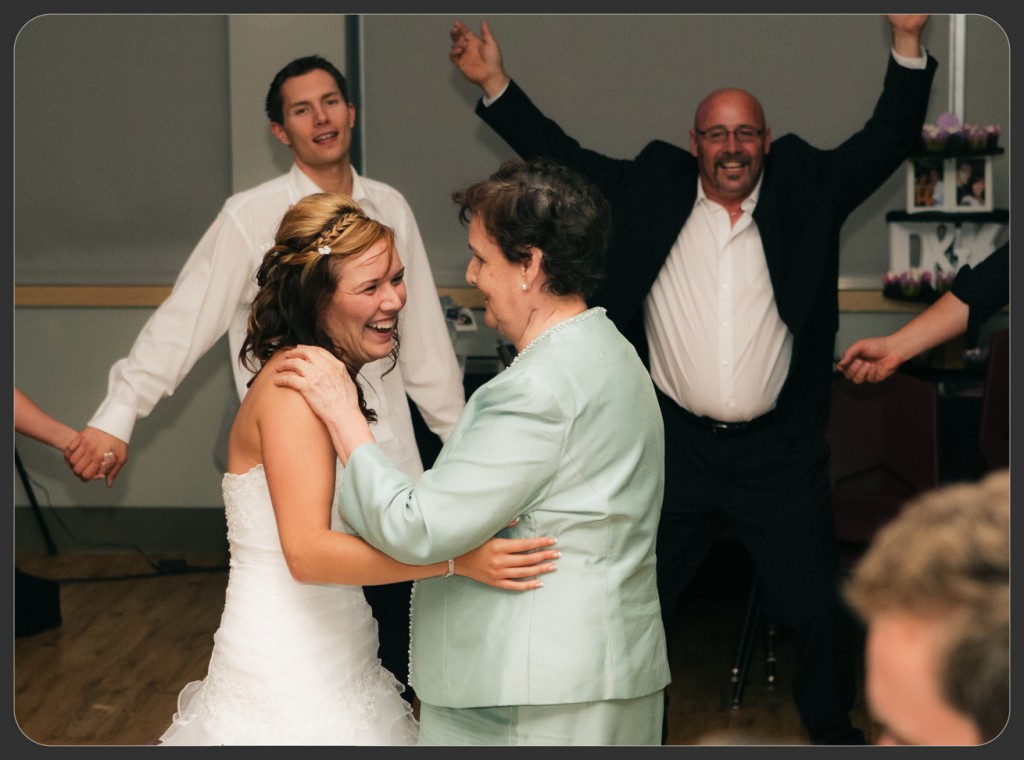 Regarding what I've just written above, this photo says it all… The day started of course, with Dustin & Krishawna's wedding ceremony. Krishawna's grandmother (pictured here) walked her down the aisle and was also then, included in the last dance of the night. Talk about starting and finishing in a meaningful manner. I was so excited when she came up to the dance floor to share in this moment with her granddaughter. It was picture perfect… with her Dad's enthusiasm in the background and her new husband Dustin looking on with pride.
A fun choice that was made through planning was to also have every man and every woman come up for the garter and wish bouquet toss. This ended up including more people then normal — and Dustin even attached a $20.00 bill to the garter to entice the guys into reaching as high as they could for it! "For The Love of Money" by The O'Jays played as it flew high through the air!
In addition to the screaming fun that was had during Scavenger Hunt Musical Chairs — with a picture perfect ending…. WOW you had to have been there —Dustin & Krishawna's first dance included a really nice surprise. She wanted to add something personal to the song that they'd chosen to dance too. So as Keith Urban's "My Best Friend" was playing, all of a sudden his voice was replaced with a recording of her singing the song to Dustin as they danced. She did an amazing job with it as she has some serious vocal talent. It will forever be a moment that her and Dustin will cherish. Well done Krishawna!!!
To finish off, I'll say that it was a lot of fun finally working with Stacey from Stacey Luce Photography. Photo's from the wedding are already up on her Facebook page. Look for the one that I've commented on… based on that single image, I believe that she is a true artist and has some amazing talents. Check it out!
Thanks for checking out this weeks story and congrats once again to Dustin & Krishawna, we'll talk real soon!
~ Dave Ternier :: Master of Ceremonies :: Disc Jockey