Kyle & Alyssa got married in Moosomin yesterday. And I now believe that the entire town is talking about the exciting time that everyone had. Excited comments about the evening were floating everywhere, it was such a great time!!!
Their reception started off with a Grand Entrance — but included a twist. Following my introductions of the wedding party, my phone "rang". It was "Kyle". He proceeded to "tell me" that they were running late. After my insistence that I was sure their truck was parked outside — hence why I started the introductions — he sadly informed me that I must have been mistaken. They were running LATE!
He then proceeded to "tell" me about what happened to them that afternoon after their wedding ceremony. Rather then let him get too far into the story, I asked him to wait as I hooked up the phone to my "system" so that their guests would know what was going on too.
What followed was one of the funniest videos you've ever seen. A few weeks ago, after talking about a few different ways of doing it, Kyle & Alyssa shot a video that told a story. In this story, they had been contacted by neighbours (while having their wedding photos taken on "wedding day") that his cows had gotten out. Kyle told Alyssa they'd better go and get his beloved cows back in. He promised they'd be back in time for their reception. For the next 8 minutes we watched as they cruised around a field getting the cows back in — Alyssa in a wedding dress, Kyle in his suit! Then on their way back, the truck ran out of gas. So they waited…. then they ran…. then they found a scooter…. then they stopped at a bar for a bathroom and "refreshment" break… and then finally pulled up to the hall.
After having laughed so hard at the jokes and moments in their "running late" video, everyone went wild when the real Kyle & Alyssa finally exploded into the room!
From that point on, the energy was incredible. The fun was contagious as it spilled from table to table. Kyle's Uncle Brian did a great job as he and I co-MCed the evening. The table release activity… guessing, is it Kyle or Alyssa?! was a ton of fun. The kissing…. let's just say I've never seen the entire wedding party involved in a kiss quite like that!
Moment after moment happened, including a song that Kyle recorded with me last week for Alyssa. He recorded his own version of "A Woman Like You" by Lee Brice with some of the words changed to reflect he and Alyssa. I think there might have been a few tears as they danced to that…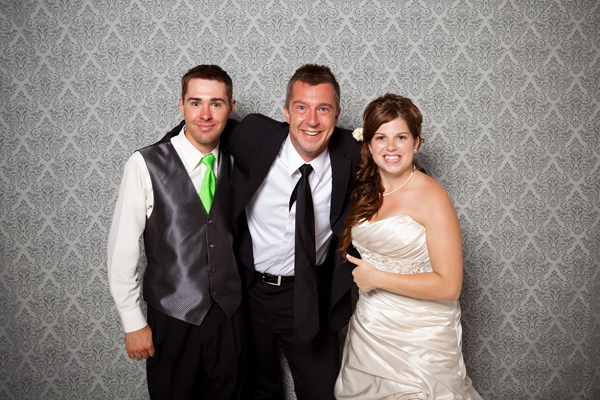 Thanks to Sandra from the Witches Brew for catering a great meal! Also thanks to Natalie & Tim from Shift Photography out of Brandon. They hung around until the wee hours of the morning running a photo booth and capturing memory after memory. Can't wait to see some of the images they captured!
If you were there last night, feel free to share your own favourite memory below. I'd love to hear what made it GREAT for you!
~ Dave Ternier :: Master of Ceremonies :: Disc Jockey